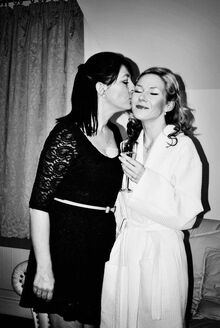 Jemma Christine Millward-Middleton (also known as xjemmamx) is a Twitch Streamer and Daniel Middleton's wife.
About Jemma
Edit
Wife of Daniel Middleton. Her channel is called Jemplaysmc.
Before Fame For Jemma
Edit
Her first video was titled "Minecraft Mini-Game | JemPlaysMC plays Hot Potato! | Episode 1" and was posted on August 19, 2013.
Family Life For Jemma
Edit
Daniel Middleton (a.k.a. DanTDM) is Jemma's husband, they've known each other since Year 6, but she doesn't have any recollection of it what-so-ever.
Unknown Dad
Edit
Jemma's dad (name not known) is, of course, Jemma's father, he apparently doesn't like any Video Game related matter as she's said in one of her streams.
Mom Clare
Edit
Jemma's Mom Clare is, of course, Jemma's Mother, Jemma has mentioned in one of her Twitch streams that she's afraid of spiders. She also appeared in stream and played Mario Party with Jemma.
PapaMinecart is Daniel Middleton (a.k.a. DanTDM)'s dad and Jemma's father in law.
Associated With
Edit
Her husband, Daniel Middleton won a Nickelodeon Kid's Choice Award a few weeks before her 23rd birthday.
She has not posted a new Minecraft video to her channel since November of 2013 but is featured in Daniel's videos from time to time.
She loves Ramen.
She dislikes lunch.
She loves Shopping.
She occasionally watches Dan's videos.
She's not a fan of Sushi.
Her favorite Pokémon is Alolan Vulpix, her favorite starter Pokémon is Froakie and her favorite Gen 1 Shiny Pokémon is Staryu.
She Married Dan at the age of 21 (March 17, 2013)
She suffers from Crohn's Disease